Spotlight turns to wives of several famed artists
The Boston Globe, December 10th, 1992
---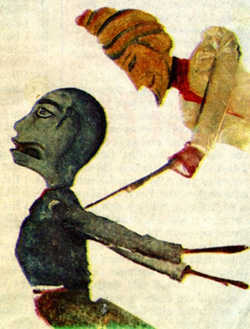 Until recently art history had little room for the wives of famous artists. But not infrequently, those wives were also artists in their own right, who operated with little worldly recognition. In the past past two decades feminist historians have unearthed a treasure trove of these artists, bringing them (often posthumously) to public attention.
Several artists who were married to celebrated male artists are currently having shows in Boston. Works by Nina Bohlen, former wife of the renowned Boston painter Hyman Bloom, is on view at the Boston Public Library, and lithographs by Sonia Delaunay, wife of the early French modernist painter Robert Delaunay, can be seen at the Rolly-Michaux Gallery.
You may have to work to find the Wiggin Gallery at the BPL; it's off the Fine Arts Reading Room on the second floor. But this show of Nina Bohlen's monotypes, watercolors and colored pencil drawings is worth a bit of effort.
Born in Boston in 1931, Bohlen studied with Bloom at Radcliffe; eventually they married. In a statement that accompanied a previous show at the BPL, Bohlen freely acknowledges Bloom's influence (he is still a close friend). It's not hard to discern that influence in these works – Bohlen's strong sense of color and anxiety about the human condition are Bloomish characteristics. But Bohlen is very much her own woman; her works are laced with whimsical fantasy, and they engage the mystery of male/female relationships.
The subjects in this intimate drama are Burmese, Indonesian and Chinese puppets; a glass vitrine displays the artist's collection of these striking marionettes. In the works on paper, images of male and female puppets are juxtaposed in emotionally charged arrangements.
With their mood of exotica and and fancy and their beautiful colors, these initially seem like a delightful fairy tale. But their dark side quickly reveals itself. A series on "Togetherness" shows a pair of puppets lumped side by side, with toes and heads touching but no eye contact. A monotype called "Separate Worlds" depicts a couple with their bodies and strings entwined, but with their heads swiveled in opposite directions. Another series suggests violent sexuality; it features a Burmese female puppet with swinging wooden breasts and an exposed crotch painted in lurid red, along with her lascivious puppet lover. One work is plaintively titled "Now Do You Like Me?," another "Entanglement"
The puppets act as metaphors for human manipulation. A series called "Puppet Show" depicts a placid doll controlling another puppet whose face is contorted in agony. This world of make-believe seems all too real, with its intimations of torture and the banality of evil. In these works Bohlen's simple forms against a white background of paper bring to mind Nancy Spero's similarly stark imagery. But in the main, Bohlen's sensibility is painterly. Her palette is rich and warm, and she deftly uses the spontaneous properties of the monotype medium.
-Nancy Stapen